The GALACTIC PREMIERE of the all new original stage play "Ladies and Gentlemen, It's The Strolling Scones!"
Is coming to the Paradise Theater in Paonia, CO
Oct. 11-13, 2013
The play, with book written by New York playwright L.E. McCullough and music and lyrics written by Rick Stockton, is a 2 act rockin' - rollin' musical that follows the fictional Strolling Scones - 1960's era British invasion band - through their struggles to adjust to the 21st Century after being "accidentally" frozen in a VW microbus at the bottom of an ice choked high mountain lake since 1969. Lenore Cambria directs some of Paonia's most skilled comedic actors through this witty and campy multi-media extravaganza.
As the legend goes......
The year was 1969. Popular British Invasion band the Strolling Scones were on their first North American tour.
Enroute to their gig in snowy Colorado, the band had an "accident" of unknown cause ... their VW microbus careened off the road
into an ice-choked high mountain lake, where the hapless rockers were frozen instantly. Search and rescue attempts failed and the band was presumed dead.
Now, more than 40 years later, the band has been found, miraculously thawed, and put back out on tour - all still in their Twenties and ready to rock.
Follow Malcolm, Yardley, Stewart, Chelsea, Rainbow Sunshine and Harry as they struggle to adjust to a new millennium and a
second chance to rediscover their music - and redefine their lives, loves, and dreams.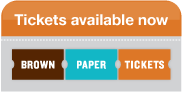 Show times:
Fri. Oct. 11 - 7:30pm (doors open at 7:00)
Sat. Oct. 12 - 7:30pm (d00rs open at 7:00)
Sun. Oct. 13 - Matinee - 2:00pm
(doors open at 1:30)
You can be a part of history by
sponsoring the play!

You never know, this play could go to Broadway or become a cult favorite movie! You can help us launch it by underwriting some of the many expenses associated with the production and get some very groovy thank you gifts, including having the REAL Strolling Scones come and play at your private party!
Local restaurants and lodging facilities are joining in to make the Galactic Premiere an event to remember with package deals, costume parties, and special menu items! Contact them to see what they are doing!
Smith Fork Ranch - Crawford, CO
Living Farm Cafe and Inn - Paonia, CO
Bross Hotel - Paonia, CO
Louie's Pizza - Paonia, CO

Latest Video!